ROTTERDAM, NETHERLAND, March 21, 2023 (GLOBE NEWSWIRE) — Tokerr is a new ecosystem in the DeFi industry that aims to make DeFi safer, more secure and more accessible for both – investors as well as developers. All the Tokerr utilities and DApps have been carefully envisioned prioritizing the investors and trying to fix the unique problems that plague DeFi, from the ground up.
The goal is to allow users of Tokerr products an environment where they can invest with peace of mind and the knowledge that their investments are safe; as well as to create an ecosystem for developers that allows for safer development and better collaboration – leading to stronger projects.
Over the past year, there has been a drastic drop in transaction volume in the crypto market. A massive influx of unscrupulous developers, dishonest teams, and a lack of control in the hands of investors has also played a big part in this.
Therefore, the Tokerr ecosystem was envisioned, keeping in mind all the problems preventing new investors from entering the DeFi space and driving away many older investors too.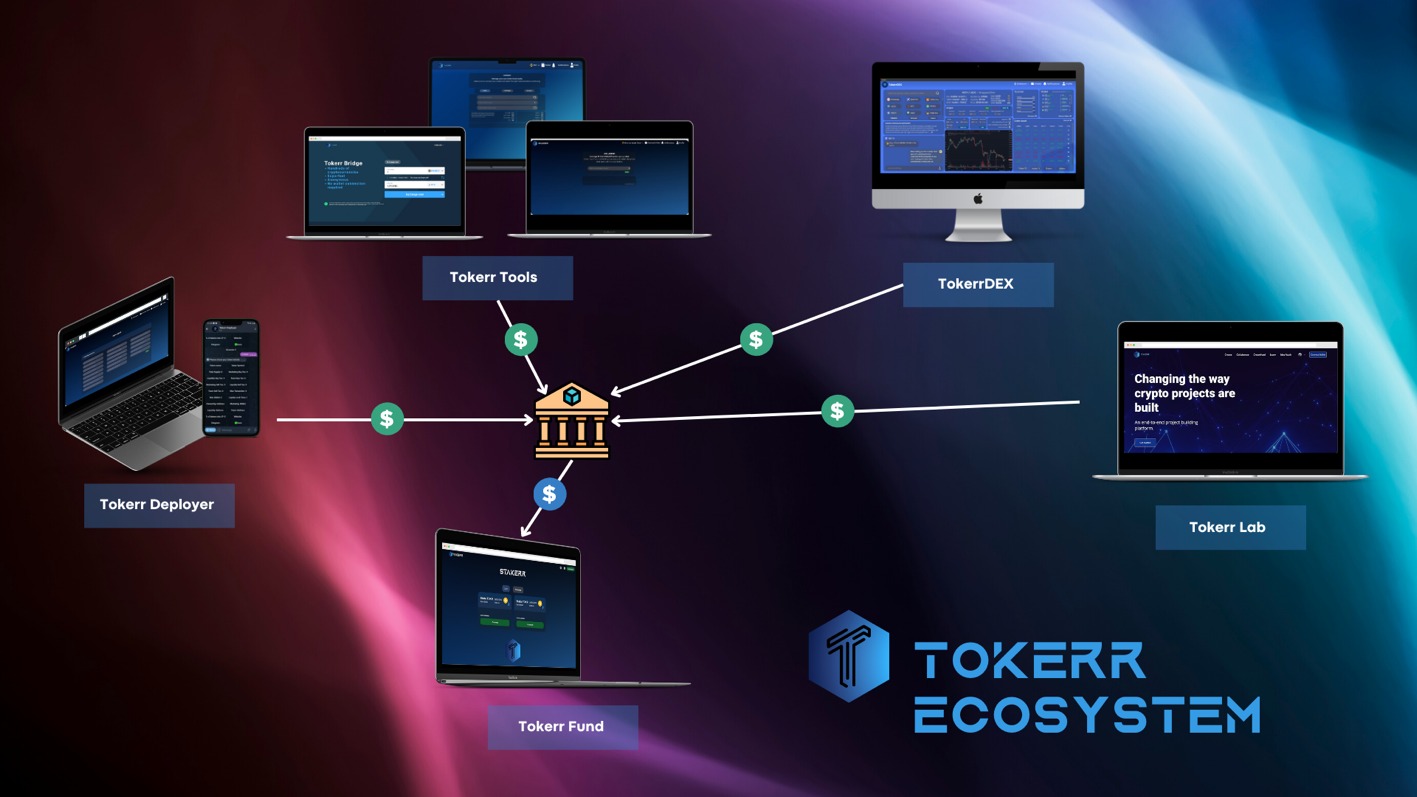 Tokerr Ecosystem
The Tokerr Ecosystem and utilities are:
Tokerr Deployer: The Tokerr Deployer is an easy-to-use multichain telegram bot and DApp through which users with even little or no experience of coding can launch tokens within minutes, on multiple chains. The bot is designed with hard-coded limits, so that developers cannot add malicious functions or create malicious code. The deployer has been live for Binance Smart Chain and Ethereum, with Arbitrum, Polygon and Shibarium Deployers coming soon.
Tokerr Tools: A suite designed to provide DeFi investors and developers with essential tools to improve their DeFi experience. Tokerr Bridge (fast and anonymous bridge which doesn't need a wallet connection), Lockerr (secure, multi-chain, affordable locker) and Holderr (a group organization DApp for developers) are the first tools, with more to follow.
Tokerr Fund: A profit-sharing system that automatically accrues 30% of the income accumulated from the entire Tokerr Ecosystem, and regularly distributes it amongst holders who stake their tokens on the Stakerr platform.
TokerrDEX: TokerrDEX is an intuitive, modular, all-in one, multi-chain charting DApp, designed to provide investors with a single, comprehensive platform to manage investments across all chains. (Expected: Q4 2023)
Tokerr Lab: A decentralized collaboration space, where creators and collaborators can easily find each other and build projects with all the necessary tools for planning. Additional modules include Crowdfunding, Learning and an Idea Vault. (Expected: Q4 2023)
Tokerr has an elaborate roadmap, and the team plan to keep developing the project by continuing to innovate and develop real-world solutions for various existing and upcoming DeFi problems.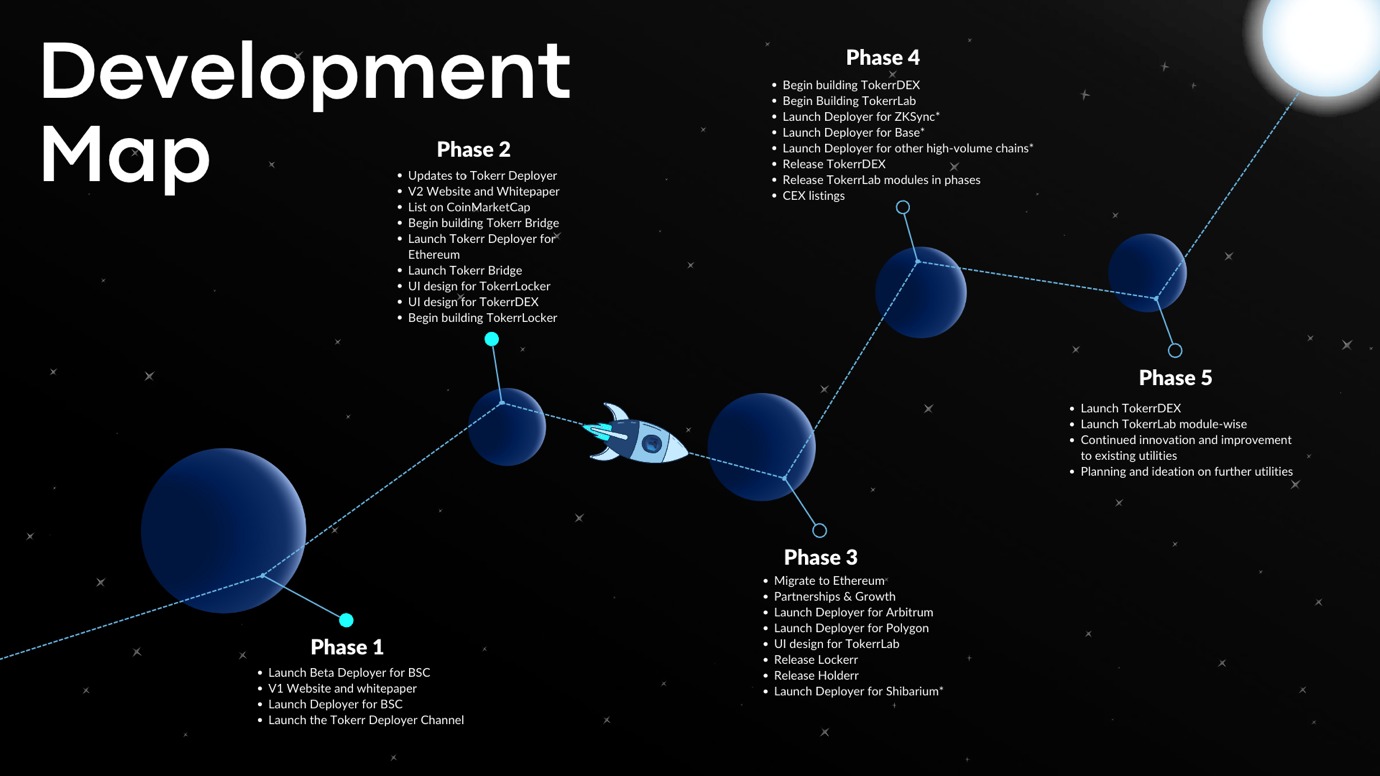 Tokerr Roadmap
About the Token
$TOKR is the currency used throughout the current Tokerr Ecosystem and in all further utilities. The total supply is 1,000,000 TOKR, and the buy and sell taxes are 4% each, which will gradually reduce to 0% as the ecosystem becomes more self-sustainable.
About the company – Tokerr
Established in July 2022, Tokerr launched their token and utilities in September 2022. The team is global, and comprises of members from many countries – with in-house developers, marketers and business development professionals. So far, over 350 tokens have been launched through the Tokerr Deployer, and there has been a volume of over $200,000 on the Tokerr Bridge. The team has many further updates and utilities ready, and coming very soon.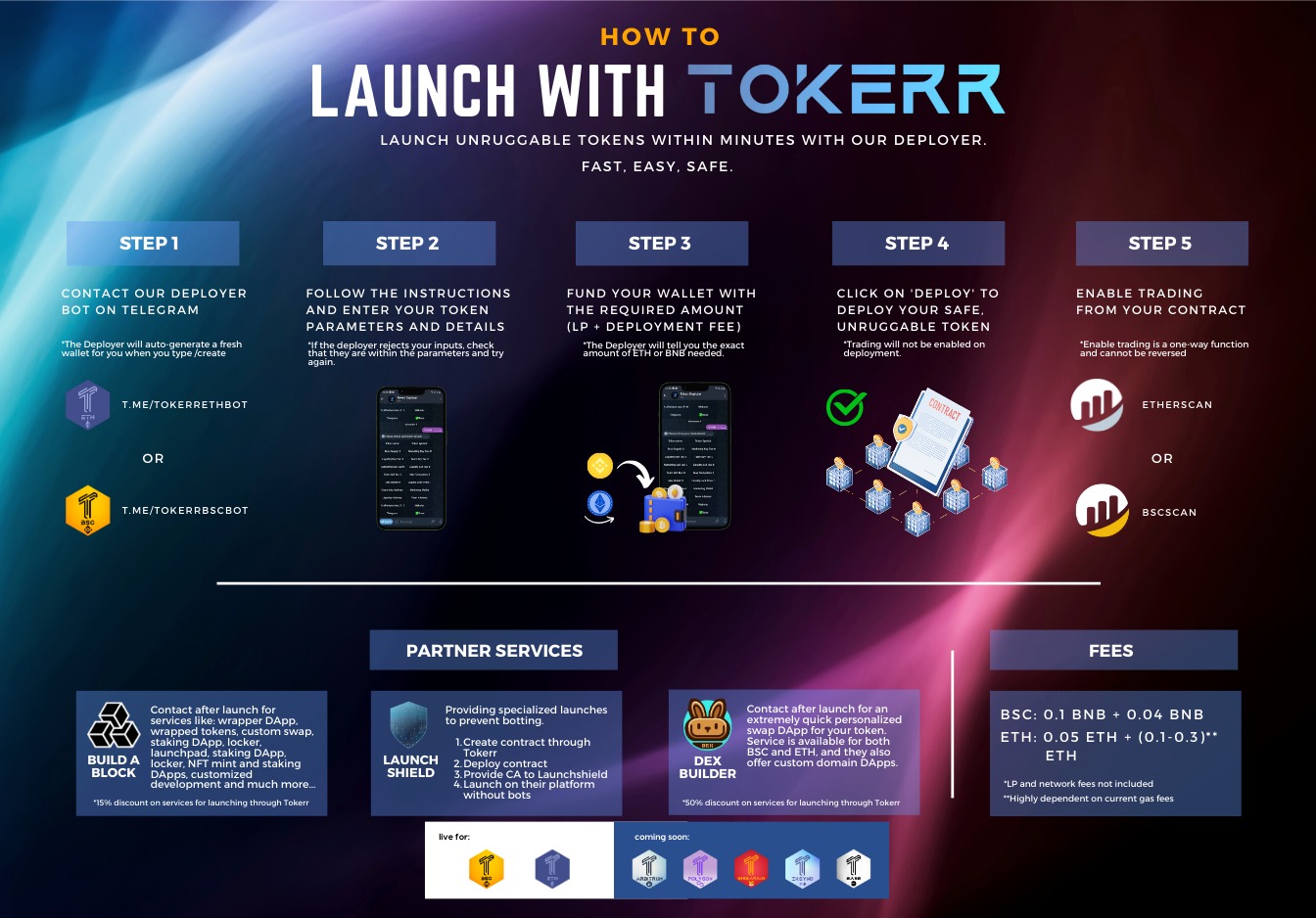 How easy it is to deploy a token using the Tokerr Deployer
Prospective investors and crypto enthusiasts must visit the following links for further updates about the project.
Uniswap | Twitter | Telegram | Whitepaper
Website: https://tokerr.io/