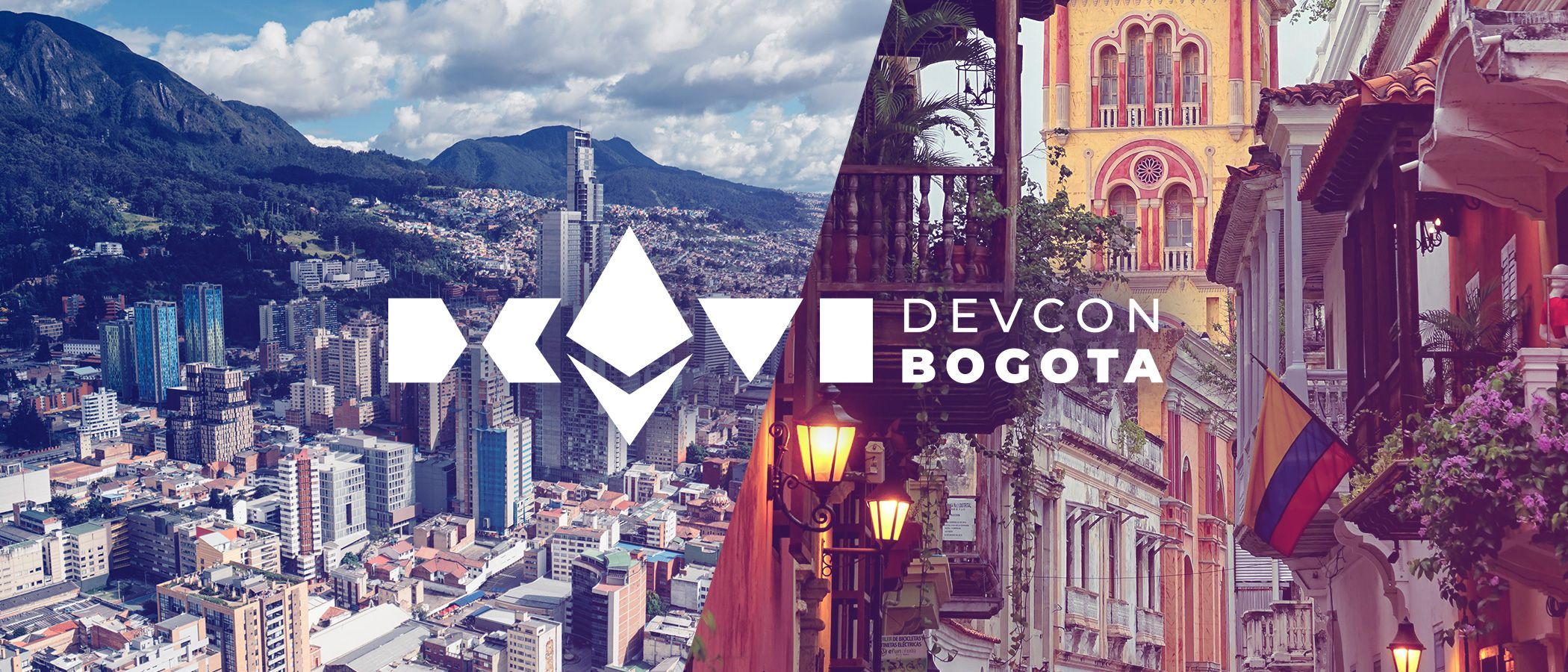 Queridos amigos,
It's happening. Devcon is back!
When we first announced that Devcon would take place in Bogotá, we spoke about all the city had to offer, and what we dreamed the event could become.
Later this year, we will finally meet in Bogotá. With Devconnect now wrapped up, our team is working to bring Devconnect's older sister, Devcon, to life. We can't wait to unite the Ethereum ecosystem in the vibrant capital of Colombia.
But enough with the teasers! Today we're releasing details on ticketing, speaker applications, supporter information and more. Enjoy!
Ticketing
This year, as in prior years, we will feature both public ticket sales and application-based ticket sales at a discount. In addition to offering standard methods for ticket distribution, we will also be experimenting with an on-chain Raffle+Auction to sell a portion of Devcon tickets in a pre-sale.
More information on the Raffle+Auction will be released in a separate blog post in the coming days. For now, let's dive into the ticket types, prices, and timelines.
Ticket Types
General Admission ($599 USD/DAI) – "The original ticket to Devcon."
No ID required.
Builder *† ($299 USD/DAI) – "For those who actively volunteer their time to the growth, research and development of the ecosystem. If you'd like to apply for a Builder discount, click here."
Student *† ($149 USD/DAI) – "For students & educators alike. If you'd like to apply for a Student discount, click here."
Secondary/high school, College, or University
Volunteer * (Free) – "If you are interested in Volunteering at Devcon, click here."
*ID Required at check-in to prevent resale
†Additional discount available for Builders and Students from Latin America
Timelines
Pre-sale
Raffle+Auction start & end dates: TBA
Discount Ticket Applications
Open: June 6
Close: June 30
Responses sent on a rolling basis
Main Sale (in Waves)
July 18 @ 16:00 UTC & 23:00 UTC
July 26 @ 16:00 UTC & 23:00 UTC
August 3 @ 16:00 UTC & 23:00 UTC
August 11 @ 16:00 UTC & 23:00 UTC
August 23 @ 16:00 UTC & 23:00 UTC
Speaker Applications
You can now apply to speak, give a workshop, or host a panel at Devcon VI! Applications are open until June 27 23:59:59 UTC.
Aligned values
If you are a builder, creator, or thinker who wishes to improve this world through decentralization, and using Ethereum, we'd love you to apply as a speaker at Devcon VI.
We are looking for content ranging from the deeply technological to the profoundly human. We encourage applications from all community members who are dedicated to a specific cause and who want to engage attendees with a holistic approach.
Speaking slots include (but are not limited to) talks. You can apply to host a workshop, panel, or lightning talk.
Empowerment
Ethereum is global, and with Devcon, we want to help cultivate communities in different locations around the world. We are actively looking for a diverse set of speakers to reflect the diversity of the Ethereum community. This year Devcon is bringing the Ethereum community to Colombia, and we encourage voices from the LatAm community to apply as speakers.
Application process
Applications are open until June 27 23:59:59 UTC. You should hear back on the status of your application before the end of July.
Spots are limited and the process is highly competitive, so make sure to include all important information in your application. Each application will be reviewed by at least two reviewers, and while their decision is final, if you don't get accepted there are still lots of other ways to get involved at Devcon VI, for example by submitting a DIP.
Head to the Devcon Programming page for more information on session formats, the benefits of speaking at Devcon VI, the expectations, this year's track themes, and how you can apply. Please reach out to support@devcon.org if you have any further questions.
Supporter Program
This year, we're trying something new: A Supporter Program in lieu of traditional sponsorships.
How does it work?
Aligned teams will have the opportunity to contribute toward Ethereum-related public goods to grow the Ethereum ecosystem, and further technologies that help us move forward together.
As a thank you, we'll be allocating Supporter Tickets to Devcon VI to those who give back to the community by supporting public goods that benefit Ethereum.
Who can participate?
If you're building applications or infrastructure that benefits Ethereum and you're interested in participating or learning more, click here to inquire for more information!*.
*as Supporter Tickets are tightly limited in availability, entities are subject to a review prior to participating in the Devcon Supporter round.
Location
It's been a while since we first shared information about this year's Devcon location. So let's dig back in and summarize the best parts once more!
Bogotá
We weighed different factors and the feedback from the community to pick the ideal place for our next gathering, and we believe that Bogotá is the right place to hold Devcon VI. Why?
Bogotá is one of the most popular cities in Latin America and the streets are filled with art, culture, flavours, and history.
The venue
We couldn't be more excited about Devcon VI's venue: The Agora Bogotá Convention Center.
It is fully modern and equipped with WiFi, meeting spaces, and everything a conference like Devcon needs. It is also just a few minutes from Bogotá's El Dorado International Airport and from the historic Santa Fe and Candelaria neighborhoods.
One of the reasons to hold Devcon VI in Colombia is the potential community growth in Latin America. The Road to Devcon is paved with Ethereum events in LatAm and we are amazed to see the community growing!
For more information on why Bogotá and what to expect, see our City Guide
Stay tuned for more!
Get ready to secure those tickets and speaker roles. We will share more information with you over the next weeks, and the pace is about to pick up. Keep an eye out for volunteer opportunities, more detail on the sections above, recommendations for your stay, getting around, and more.
Xoxo,
🦄