The Shanghai upgrade taking place on Ethereum tomorrow, 12th April 2023. This upgrade will mark the final stage in the trio of changes to migrate the Ethereum network to proof of stake. This milestone is significant, as it enables people to finally start realising their return on the Ether they have been staking in the network during the past two-plus years.
The Beacon Chain
Whilst the research efforts to transition from proof of work to proof of stake go back to the early days of Ethereum, the first major milestone was the launch of the Beacon Chain in December 2020. The Beacon Chain allowed people to deposit denominations of 32 Ether into a deposit contract. Once funds were locked up in this contract, people could then stake these funds on the Beacon Chain earning a yield on them, which started around 25%, reducing to 4.36% currently. 
The Beacon Chain launched without any hiccups, however, it has not been possible to withdraw these funds until now. 
Turning off proof of work
Following the launch of the Beacon Chain, the next major milestone in Ethereum was to turn off the proof of work consensus layer that had been used ever since Ethereum launched. 
The migration to proof of work took place successfully in September last year. As with the Beacon Chain launch before it, everything went incredibly smoothly, without any hiccups. 
Enabling withdrawals
With the network migration to proof of stake complete, the unlock was the final upgrade required. This would allow stakers to finally realise the yield they had earned on their Ether, and allow them to unstable their buckets of 32 Ether should they choose.
When the Shanghai fork takes place tomorrow, these staked Ether will finally be unlocked and accessible by those running validators.
Each validator on the Ethereum network has an execution address associated with it which is the Ethereum wallet address that any earned funds will be paid to.
This means that once the upgrade happens, wallets will start seeing this Ether paid out. The process will take place incrementally due to the way in which rewards are paid out by the network to validators in batches.
Selling pressure
What happens next will be interesting. Some are speculating that people will start unstacking their Ether in order to get it back, having had it locked up for the past couple of years. If this were to happen it could create significant selling pressure on Ether. 
However, this is likely to only be attractive to those who don't want to have exposure to cryptocurrencies any longer. Ether is still the second-largest cryptocurrency by market cap by a significant margin. 
With withdrawals enabled staking Ether will remain an attractive investment for cryptocurrency investors due to its yield. My view is that this event will be a catalyst for even greater interest in it than we have seen before.
LSD
Aside from Ether itself, activity on LSD or liquid staking derivatives protocols will have ramifications. The most popular protocol — Lido provides a staked Ether (stETH) token to anyone using their platform to stake their Ether. 
They will not be facilitating withdrawals until May. Given that almost 6bn of the 18bn Ether staked is on Lido, this is very significant. Lido was very popular for people who didn't want the overhead of running their own validators in order to start staking their Ether.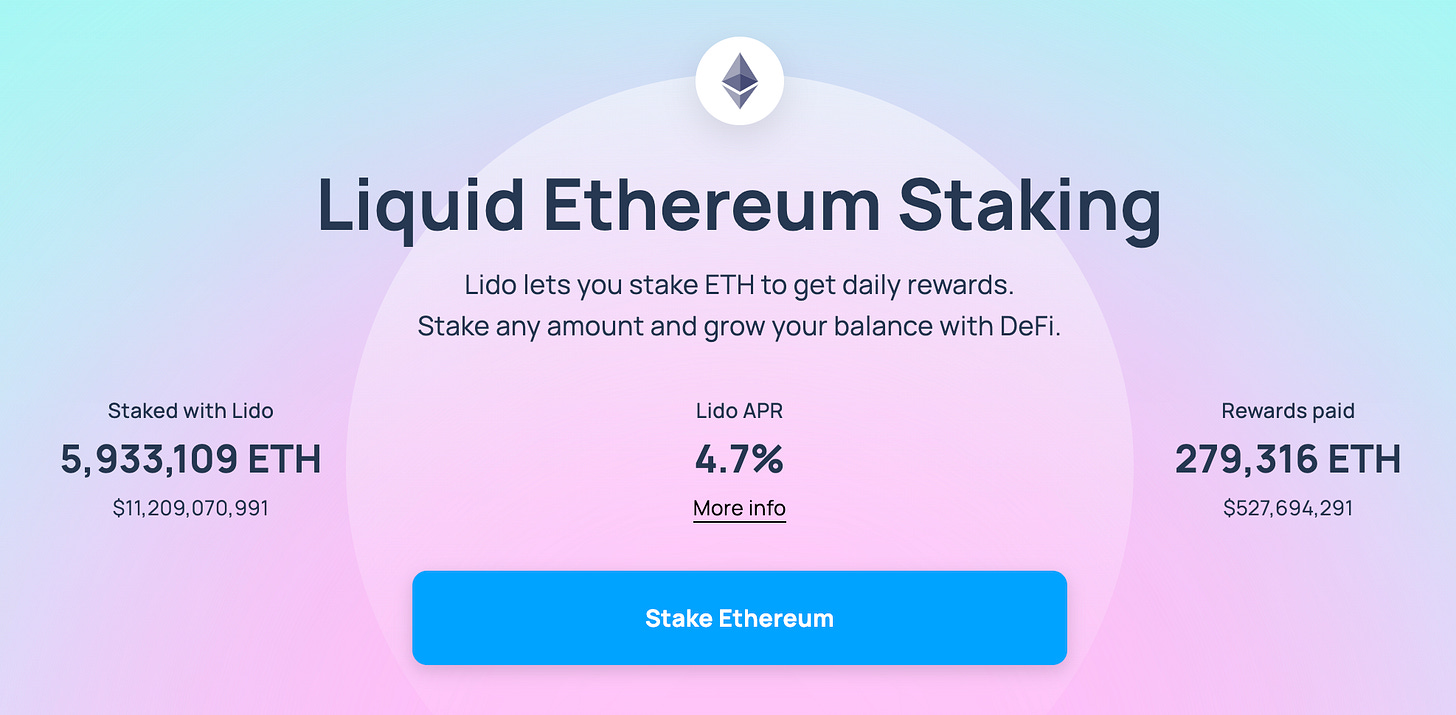 Given the amount of Ether staked on their platform, it will be interesting to see if there is any significant withdrawal activity come May. 
What's next?
With withdrawals finally enabled for Ethereum, it marks the completion of one of the most ambitious technology upgrades ever undertaken. However, Ethereum itself is by no means complete. With the full transition to proof of stake out the way, the community can resume their focus on the other areas which still require a lot of investment.
The layer 2 space has been hotting up for the past 18 months with activity on optimistic and zero-knowledge rollups helping to scale the network. This scaling is not going to be achieved just using layer 2 networks. 
Personally, I remain very enthralled by the Shanghai upgrade. This isn't because of my own staking activities, but because I believe it will help many who have been on the fence about Ethereum be drawn to it. It's likely that any service offering custody service for Ethereum, be that exchanges, payment platforms or crypto wallets, aimed at either individuals or institutions, is likely to now include staking too. 
Historically, staking has been the domain of sophisticated crypto investors and web3 natives. It is my belief that this upgrade will be a major catalyst that brings Ether even further into the mainstream, which is what makes tomorrow's upgrade so exciting!