The Bitcoin safe haven narrative may be back as data shows the cryptocurrency's correlation with Gold has surged in recent months.
Bitcoin Correlation To Gold Has Increased During The Past Year
According to the latest weekly report from Glassnode, the correlation between the two assets remained high during the recent US banking crisis. The "BTC correlation to Gold" indicates how closely Bitcoin is following the movements taking place in the price of one troy ounce of Gold.
When the value of this metric is negative, it means BTC is currently responding to movements in the price of Gold by traveling in the opposite direction. On the other hand, positive values of the indicator imply the two assets are moving in a similar trajectory right now.
Naturally, when the correlation is zero, it suggests there is no pattern regarding how the cryptocurrency and Gold are moving relative to each other.
Now, here is a chart that shows the trend in the 30-day Bitcoin correlation to Gold, as well as in its 90-day and 365-day versions, over the last few years: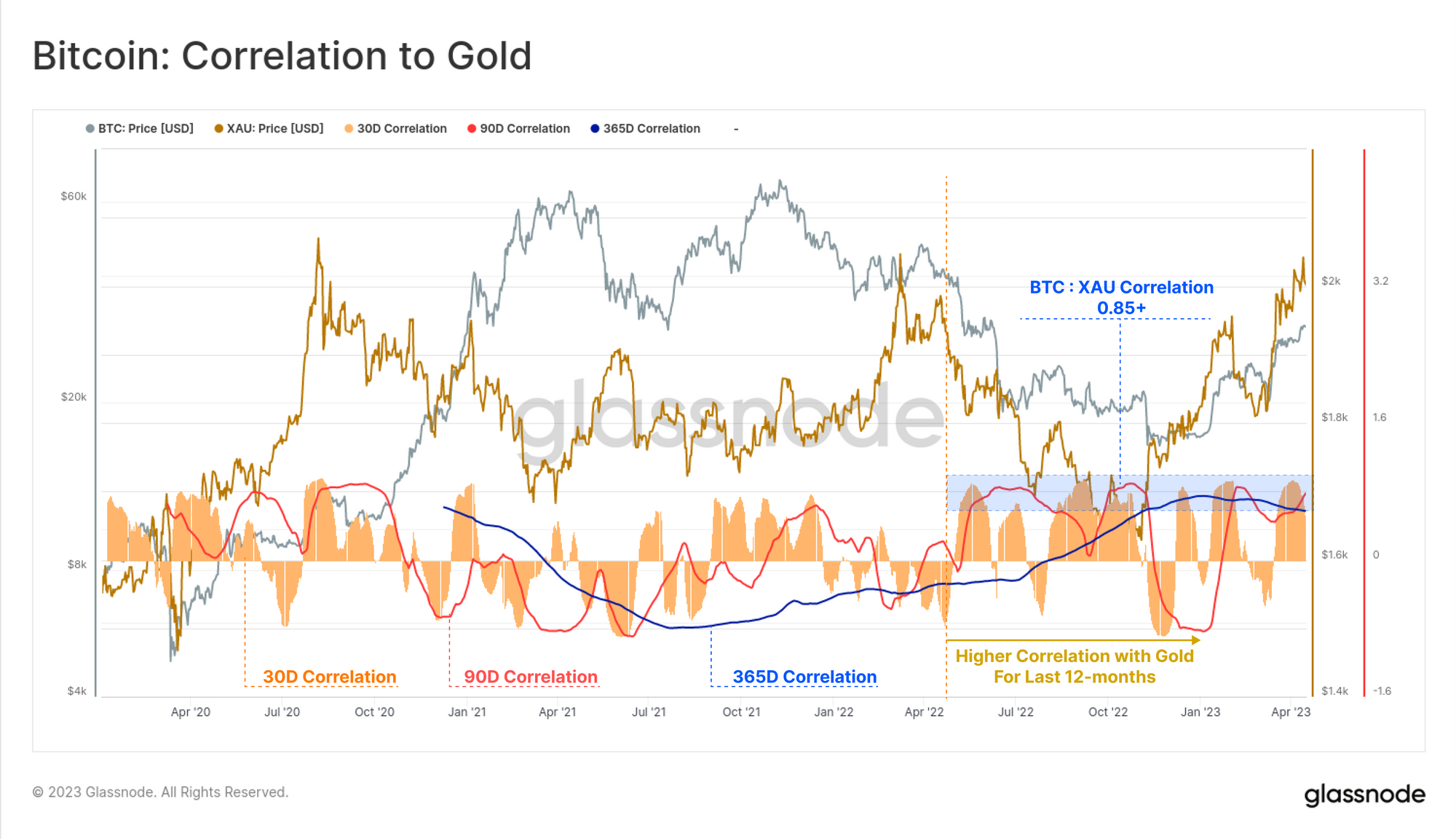 Looks like the value of the metric has been quite high in recent days | Source: Glassnode's The Week Onchain - Week 16, 2023
The above chart uses the symbol "XAU," but note that this term refers to one troy ounce of Gold here and not the Philadelphia Gold and Silver Index.
As displayed in the graph, the Bitcoin correlation to Gold didn't show much strong positive correlation during the bull run in 2021, as the metric had assumed negative values for a decent chunk of the period.
Correlation also remained weak in the first few months of 2022, but things started to change as the bear market took hold. In the last twelve months, the indicator has mostly registered high positive values, suggesting that the two assets have become strongly tied during this period.
The FTX crash provided one exception, however, as the indicator's value had turned deep red around the time it took place. Nonetheless, with the rally this year, the assets quickly became strongly correlated again, as all three MAs (30-day, 90-day and 365-day) obtained positive values.
Gold has traditionally been considered a safe haven asset, while stocks and BTC have generally been considered risky investments. With the correlation between Bitcoin and Gold becoming high recently, it seems that the Digital Gold narrative may be making a comeback.
Interestingly, the correlation also remained high during the US banking crisis a while ago, when institutions like Silicon Valley Bank (SVB) collapsed and shook the market. This may be further evidence of BTC being looked at in a better light recently.
"This does suggest that an appreciation for both sound money and the realities of counter-party risk are increasingly front of mind for investors," notes Glassnode.
BTC Price
At the time of writing, Bitcoin is trading around $29,500, up 1% in the last week.
BTC seems to have plunged during the past day | Source: BTCUSD on TradingView
Featured image from Aleksi Räisä on Unsplash.com, charts from TradingView.com, Glassnode.com